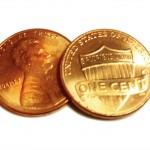 In episode 5 of the podcast, we shared the story of the boy torn between a million dollars and a mere penny doubled every day for a month. It might not be obvious at first, but the penny is clearly the better option.
The same is true for our habits.
Want to develop a new habit or break a bad one?
Start really small. Find the penny.
When everything inside you wants to launch into a new life, to start off with a bang, to make tremendous progress with one swift change, resist. That rarely works.
Instead, find the penny.