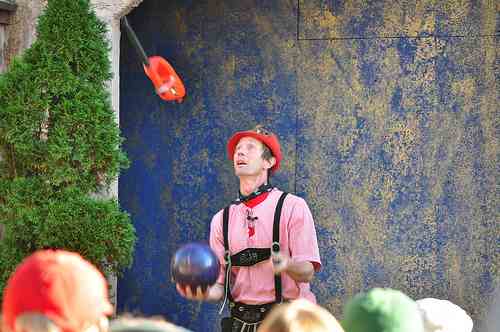 For the last few days, I've dreaded writing this. Not the writing part exactly, but the self assessment and accountability part.
Right now, it's overwhelming to even think about the projects I'm juggling and what's needed for each. The days are hard. I'm tired. Life happens, and I just want to crawl back under the covers and hide. Several times over the years, I have.
But this time feels different. I'm realizing that I didn't pick this journey, but that it's exactly where I'm supposed to be. And writing it down seems to be part of the voyage.
Perhaps there's some part of this monthly report that will be meaningful to you, and perhaps continuing to put one foot in front of the other is exactly what I need to do too.
So here we go . . . one foot . . . two . . .
Project Overview
Here are my "buckets" of projects:
Accounting/Corporate Leadership – this includes my role as the Director of Finance at Port Royal Ocean Resort and a few traditional accounting projects through the CPA firm I share with my husband.
Non-profit Leadership – this primarily includes my responsibilities as President of Texas Business Women.
Purpose Project – that's this Habit Chef project and all of its related tentacles.
Relationships – having a great relationship with God, my husband, my daughter, and my extended family and friends is very important to me, but doesn't always come naturally, so I track progress in this area just like I would for any other project.
Personal Habit Development – my own journey to living and giving my best.
At the beginning of each month, I set goals and action plans for making consistent progress in each of these areas. Weekly, I think about the bigger picture and review those plans, scheduling the projects on my calendar and in Remember the Milk (my task management app). Daily, I do my best to and complete my project tasks and personal daily goals (using the Lift app).
Bucket by bucket, here's a recap of April's results compared to its plans.
Personal Habit Development
In April, many of my personal habits fell apart. My automated food diary system has a hitch, but you can go here to see what I've been eating. Decidedly not paleo. I've also not been sleeping enough or planning my weeks nearly as well. I slipped into a reactive mode instead of being proactive about managing my days.
I did have one significant accomplishment in April. I quit drinking Monster Rehab. My last one was on April 8, but my cravings have been fierce lately. I haven't succumbed yet, but I know I've got to bring my stress levels down to continue to stay away. There's a part of me that still sees it as an elixir to soothe and empower me on difficult days, even though I know that's probably my imagination.
My workouts are staying consistent with bootcamps three times a week, and 1-2 running workouts. These really seem to help in the mornings, and I feel these are one of the only defenses I have against stress. Going forward, this will be an area of increased focus.
For May, I want to write that I will commit to eating better, but that would be hollow. I've realized that I still see food as my solace, my reward, and often my entertainment. I'll need to address that before I'm truly back on track. For now, I try to focus on one day at a time and one meal at a time. Dinner is the hardest because fatigue causes me to make poor decisions, so I'm going to start with setting aside time to plan those meals each week. I've added that as a recurring task in my Remember the Milk for Sundays.
Relationships
My goal for April was to recommit to the Storyline process. Ever since that Sunday in January, I knew that was the key to moving forward in my relationships, and I did make some progress. I decided on my primary roles and some of my ambitions, but then I'd get stuck when goals for one conflicted with another – or when I hadn't really decided on a goal. Often, just thinking about relationships in this way was very taxing, so I started setting aside my early Saturday mornings to think it through and accept that it could take several weeks.
For May, my goals are to continue setting aside at least two hours each week to focus on this.
Accounting/Corporate Leadership
I expected April to be a transition month, where our past projects would be completed and we could focus on preparing for the summer season. That hasn't happened. Our pool renovation (while unbelievably stunning) has taken longer than any of us ever expected and cost significantly more. As the person that wears the financial and marketing hats, those aren't fun developments. As I reflect now, I realize that I'm simply tired. I thought we were closing in on the last miles of a marathon, only to realize that the course had been extended.
The good news is that we've learned to adapt yet again. We've found flexibility that we never would have discovered otherwise. We've learned where our systems are strong and where we need reinforcements. We've seen our team members step up and lead time and time again. Our trust in each other is as strong as ever. Assuming we're able to find some time to rest in the coming weeks, we'll finish up and hit our stride just in time.
Non-Profit Leadership
If I'm honest, this is another area that's wearing me down. I'm President of an organization that's the shell of what it once was, but hasn't really acknowledged that in its systems and member expectations. To keep up, fewer and fewer of us must run faster and faster to keep the wheel spinning. We know that isn't sustainable, but we haven't yet figured out what is.
The planning meeting for our leadership team is coming up soon, and I'm awaiting it with a blend of enthusiasm and anxiety. On one hand, I think we've come to the decision point with the right people at the table, a solid process for evaluating our options, and a good dose of reality. On the other, I know that difficult conversations are just around the corner, and I struggle with understanding how much of my personal experiences and beliefs should be integrated in the planning process. No matter what the outcome, I know that the next two months will bring clarity, and I'm excited about that.
For now, my goals are to embrace the grind (and learn as much from it as possible) and the crossroads, realizing that they're present in the lifecycle of every organization.
Purpose Project
With this project, February and March were my first months of consistency, and April was the first month that showed signs of growth (while keeping up the consistency).
The biggest surprise was when The Habit Chef Podcast made it into the New & Noteworthy section of iTunes for Health and Self-Help last Thursday.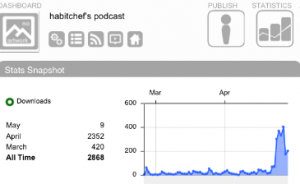 The podcast averaged 13 listens a day in March and 20 for most of April, and then shot to nearly 400 for the days that it was featured. Currently, it's averaging 100-200 listens each day, still significantly higher than before.
For this, I want to thank each of you. So far, 27 of you have graciously rated the podcast with 5 stars, and 17 have left written reviews. Without your support, this wouldn't have been possible.
In addition to the 6 podcasts in April,  I shared habit profiles for Melissa Leon, Diana Schultz, Joel Runyon, and Charlie Gilkey, and two keystone articles: how to break a bad habit, and how to find the deviant – and then become one too.
The tribe grew from 7 members to 25 awesome people, and I received my first contribution in support of this project – $30.
My goal for May is to determine if the pay what you want approach is feasible or if I need to develop more specific products and services to make the project sustainable. If you think this project is valuable and have an opinion on that, I'd love to hear from you. You can share in the comments, email me at kk [at] habitchef [dot] com, or simply make a contribution yourself. No amount is insignificant (even $1) and would let me know this type of support exists.
Forward
In closing, I must say that the dread is always worse than the doing. While I avoided reviewing myself in each of these categories because I knew I had fallen short in many areas, I feel better after digging into the details and making specific plans for improvement. Perhaps that's the lesson to be learned from all of this.
We are what we repeatedly do. Excellence, then, is not an act, but a habit. – Aristotle
——
Photo credit: byronpeebles