As a child growing up in an urban environment, my initial awareness of the civil rights movement was from a purely historical context. My immediate family and neighborhood reflected cultural diversity, and I projected that onto the rest of the world. Acceptance was all I knew. It wasn't until I moved to a rural area that I realized that wasn't the case everywhere. Those experiences in my teenage years both troubled and transformed me into a lifelong student of how societies evolve.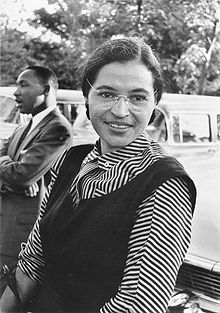 Charles Duhigg's recent book The Power of Habit includes a riveting discussion of the role habit plays in successful movements. (For anyone seeking to have a meaningful impact on the world, I'd consider it required reading.) In the first case study, Duhigg explores the Montgomery Bus Boycott from a fascinating and surpisingly insightful perspective.
Rosa Parks was not merely symbolic of a larger movement. She was its epicenter, and quite possibly, one of the few individuals capable of doing so. If not for her actions in the decades previous to her refusal to stand on that December Thursday in 1955, the Montgomery Bus Boycott and its ripple effects might never have happened.
Rosa Parks was woven deep into the social fabric of Montgomery, across nearly every racial and economic line.
"She was the secretary of the local NAACP chapter, attended the Methodist church, and helped oversee a youth organization at the Lutheran church near her home. She spent come weekends volunteering at a shelter, others with a botanical club, and on Wednesday nights often joined a group of women who knit blankets for a local hospital. She volunteered dressmaking services to poor families and provided last-minute gown alterations for wealthy white debutantes. She was so deeply enmeshed in the community, in fact, that her husband complained that she ate more often at potlucks than at home."
She was a common thread between groups that didn't otherwise intertwine. Upon her arrest, the unique combination of those threads would be apparent.
Parks called her parents from the police station, panicked. Not sure what to do, her mother called the wife of E.D. Nixon, the former head of the Montgomery NAACP. She called her husband, and he immediately called Clifford Durr, a prominent white lawyer that knew Parks because she had hemmed dresses for his three daughters.
They were the first to recognize the opportunity and asked Parks if she would be willing to let them fight her arrest in court. Despite her husband's fear for her safety, she agreed. "If you think it will mean something to Montgomery and do some good, I'll be happy to go along with it."
As Duhigg explains, "the first mass movement of the modern civil rights era … began with Rosa Parks because she had a large, diverse, and connected set of friends – who, when she was arrested, reacted as friends naturally respond, by following the social habits of friendship and agreeing to show their support."
That night – just a few hours after the arrest – news of Park's jailing began to filter through the black community. Jo Ann Robinson, the president of a powerful group of schoolteachers involved in politics and a friends of Parks's from numerous organizations, heard about it. So did many of the schoolteachers in Robinson's groups, and many of the parents of their students. Close to midnight, Robinson called an impromptu meeting and suggested that everyone boycott the city buses on Monday, four days hence, when Parks was to appear in court.
Afterwards, Robinson snuck into her office's mimeograph room and made copies of a flyer. Early the next morning, Robinson gave stacks of the flyers to schoolteachers and asked them to distribute it to parents and coworkers. Within twenty-four hours of Parks's arrest, word of her jailing and boycott had spread to some of the city's most influential communities – the local NAACP, a large political group, a number of black schoolteachers, and the parents of their students. Many of the people who received a flyer knew Rosa Parks personally – they had sat next to her in church or at a volunteer meeting and considered her a friend.
Those friendships were critical.
Without them, the movement may have ended before it began.
"Studies show that people have no problem ignoring strangers' injuries, but when a friend is insulted, our sense of outrage is enough to overcome the inertia that usually makes protests hard to organize," Duhigg elaborates. "When Parks's friends learned about her arrest and the boycott, the social habits of friendship – the natural inclination to help someone we respect – kicked in." (To carry the movement further, two other societal habit patterns would need to emerge, and the book explains those in detail as well.)
Rosa Parks sparked a movement that changed the world because she was so active and respected in her community. "Rosa Parks was one of those rare people of whom everyone agreed that she gave more than she got," according to Taylor Branch, the Pulitzer Prize-winning civil rights historian. "Her character represented one of the isolated high blips on the graph of human nature."
If we want to change the world, the same must first be true for us as well.