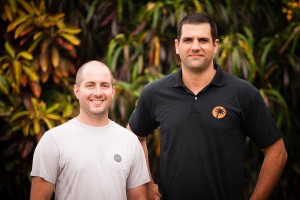 Since 2007, Dan Andrews and Ian Schoen have partnered to build a 7-figure ecommerce business that produces quality niche products like cat furniture and portable bars. Headquartered in San Diego, their business currently employs 13 people worldwide. Along with all the hard-earned knowledge that comes from a good 'ol fashioned product business, the pair have also become thought leaders in the online marketing space with their top-rated Lifestyle Business Podcast and private membership group, the Dynamite Circle.
Personally, I admire the two for how well they balance several successful business projects – and find time every week to give back to entrepreneurs around the world. So when Dan tweeted to ask for show ideas, I quickly replied that I'd love to know the business habits they feel are most critical to their success.
I was thrilled to wake up and discover that exact podcast, and I knew I had to share it with you. I also caught up with Dan the next day to round out the profile with a few more questions.
Before we get started, I always ask for a definition of success. I think it's important to know what the destination is before we start researching the route.
Dan replied, "Success is a sliding scale, but for us at the beginning it was being able to own our time and build a platform so we could see our ideas take shape in the world. Because our bar was so low, we were able to see some big wins early on."
So, how did they do it?
From the podcast, here are Ian's top three business habits:
When something goes wrong in the business, I always take the blame. This focuses me on fixing systems instead of people. When an employee makes a mistake, I realize the system could be broken or that guidance wasn't available. I reframe the problem as an opportunity to refine our process.
Ask customers the hard questions. We regularly solicit hard core feedback from our customers. Our habit is to ask a probing question about our products, even when we're scared. As soon as we open up the conversation, there's a chance the customer might ask us to do more work. This consistently pushes us to make better products.
Revisit everything. Although this can get annoying, we've agreed that decisions are never final and always evolving. Essentially, nothing is in stone. This requires us to be highly communicative and avoid putting up "off-limits" signs around any topic.
And these are the three keys Dan credits:
No monkey business before 10am. No meetings, no skype calls, and no social media. This ensures that I preserve my best creative time, even when it's uncomfortable.
Work every single day. I believe it's important to find work that you want to move forward every day. I get meaning by pushing projects forward.  As Seth Godin says, "what kind of life must you be living if you have to take a vacation from it?"
Separate personal hard work from the systems that deliver value. The daily hard work is for me, but the systems are for the world. I try not to get in the way or become a bottleneck. I can become the kink in the hose if I insist on being the unique genius.
As a friend (and customer), I'm fortunate enough to know that these habits make a difference in their businesses. They've done the hard work of figuring out exactly where their leadership and expertise is needed, and then focusing their attention relentlessly. If we want to be more effective, each of us can apply these principles in our own lives.
(If you'd like to hear it in their words, click here to listen to the full podcast: LBP #146 – Our Quirky Day to Day Entrepreneurial Habits.)
To close, I asked whether they're working on any new habits. Dan replied, "Yes, I'm always working on new habits. I could literally list 10 I'm experimenting with: especially around things like writing, managing my team, exercise and diet (including posture stuff like Yoga and foundation exercises), sleep. I'm always tinkering!"
Always tinkering. I think that's an excellent thought for us to close on.
Do you have a habit you need to tinker with?