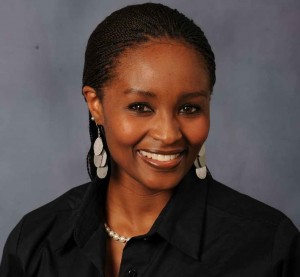 Three years ago, I learned of Liza Wisner through her participation in season 10 of The Apprentice. When she returned to Corpus Christi, I enjoyed watching how she utilized her "fame" to serve our community and her native Kenya. We were introduced by a mutual friend and have kept in touch ever since.
Often, we make excuses for why we can't pursue our dreams. (I know I have.) They won't understand. I can't do that and have a family. I already have a job – when will I have time to build a business?
I wanted to share Liza's profile because she shatters all of those myths. She reminds me that if you're clear about your goals and willing to work smart – and hard, there's no such thing as impossible. She chooses herself each and every day.
Liza, thanks so much for sharing with us. First things first, how do you define success?
Success is the achievement or realization of my goals and aspirations and then most importantly being content with what I have at any given moment, like right now. I am successful if I am content.
Was there a time when you had a different definition? What changed that?
Success is definitely something that I believe is never achieved. When I was growing up, I saw success as what the media painted it as, profits and fame. Today, for me, I am challenged with remembering that success in my life is lived within me and not without me, and I must participate in it fully to be truly successful. By this I mean remembering that I must love what I do, supporting my family, and simply being content with what I have at any given moment.
Can you describe a typical day in your life?
This is going to be tough because I don't have a regular daily schedule. One day I was in a meeting and someone said to me "Liza, you're the kind of person who already puts in 12 hours of work a day and still tries to cram in 18." At first I took it as a compliment. One of my good friends said, it's better to be the kind of person who's driven to achieve than one who works 12 and slacks off half of it. For some reason, even after I left that meeting, I couldn't get those words out of my head… "I'm that kind of person.." I didn't know what to make of it. Upon further reflection, I realized that even though I knew I was getting it done, to an outsider my life was unimaginably busy. She's a mom, a wife, an employee, she owns a business, she plays golf, and even has time to watch TV shows (and be in them, too?). How is this possible? The answer is very simple: It all boils down to loving what I do.
My typical days change from week to week because I know I get bored very easily and have to change things up to keep myself energized. For example, I don't wake up early every day and I don't go to bed when I need to every night. With that said, it will be helpful to describe what takes up majority of my time:
Employee: I work full time for Insperity as a Business Performance Advisor. This is supposed to be Mon-Fri 8-5, but its more like Mon-Sat 7:30am – 6:30pm with no consistency from week to week.
Business: I manage a non-profit PowerUp. I love this part of my life. I know I do because I am beaming inside just thinking about it. I don't dedicate enough time to this, maybe 3 hours a week.
Family: I am a wife to my husband Denis and mother to two lovely boys (Zaleik, 7yrs & Zamar, 5yrs). It's sad when I have to make time to be with my family. I believe my success is being able to be a wife and a mother and not feeling like I have to choose. With that said, I have a google calendar and notebooks of family meeting notes to show how important it is to plan family around business and work.
Community: I am involved in many organizations, committees and boards in my city. I spend majority of my late evenings and early mornings juggling these.
That does seem like a lot to juggle. Do you have any particular habits or systems that you feel are essential?
Yes… with my non-regular daily life, I do have some core habits and systems that keep my sanity and help me continue to be the rockstar life artist I know I am. Things to accomplish and deadlines to meet are definitely not in short supply in my life, so having a method to the madness is essential.
I set daily goals. I call this my "A++ Hit List." Each morning, before checking email and reviewing voicemails from yesterday, I sit quietly and jot down a detailed to-do list of the things I want to accomplish. Not in a week or a month, only what priorities have to be completed today.  (A++ is because I use Outlook for tracking my tasks and A++ keeps the tasks for the day on top.)
Next I look at my calendar for the day and action plan it in 30 minutes increments. I figure out when I'll accomplish each item on my hit list. I have a little whiteboard for this, then I snap a photo and I'm off for the day. Reality Check: I know that I probably won't get all those things that my superhero self thought I would do in the morning. So I make sure to put the urgent items first and then important and so on.
I track my time. This why my action plan for the day is so important. It may take me 3 hours to do a task that I thought would take 30 minutes. I started tracking how long it takes me to do certain task and projects and let me tell you, I was SHOCKED! Simple things take longer than you can imagine. I use this Timer Tab to track my time on the computer. When I'm in a meeting I schedule a stop time 45 minutes into the meeting on my phone and make sure to be out in a hour or less. I don't want to constantly obsess about time, but I also don't want to let the day get away from me because I wasn't paying attention to the time. Staying on track is key, especially when you have to go pick up kids from school at specific times.
Setting real life deadlines: I know myself well and just telling myself that I have a deadline isn't enough. I find that if i need to get an article written, or a workbook developed, if I offer a free workshop or seminar on the topic, then it gets done by the deadline. I have people coming to receive the workbook or listen to my workshop, so you know what I'm doing at 11:45pm the day before the deadline: Downing some super strong Kenyan tea as I pay dearly for my procrastination. But I get the task completed and working for me, instead of the other way around.
Schedule 2 minute breaks: At 11:30 – 11:32pm and 3:30 – 3:32pm I just stop and walk away for 2 minutes, or put on my favorite playlist on Spotify, or go to this website and close my eyes. For me 2 minutes of really honestly doing nothing feels like 20 minutes.
Schedule Time for Email, Social Media, and Phone Calls: I have come to realize that if I am constantly checking email then I am being a servant to someone else's agenda items. I have my email time and my social media time. The only emails that get top priority are from my boss and my husband. I have their email messages send me a text message when they arrive. For my phone, I return calls in the morning and at the end of the day. If I have the number in my contacts, then I answer it, if not, straight to voicemail. Gotta love Google Voice.
Things don't always go as planned, so if I think a task will take 10 minutes, GREAT! I still schedule 30 minutes. I feel great if I finish my Hit List tasks early, and if something pops up that's urgent, I'll have time to catch up.
Are there any habits you're working to develop next?
My number one is using the Lift app. If I can do that, then everything else should fall into place nicely.
Of highest importance is calling my mom every week. She lives in Kenya and I find sometimes two weeks has slipped by and I haven't called her. Yes, I know she's on Facebook and I can email her, but that's just not enough for the lady that is my super hero mom.
Saying 'No, thank you' to community work. I am seriously in need of some coaching when it comes to saying no to helping a cause or a person for that matter.  I am realizing that I am not helping anyone if i don't have time to even fulfill the commitments I agreed to.
With that said, the bottom line is how I want to feel, while I am living my life, today. Not what I am working towards feeling like next year. I think about that and plan it out but for me, sanity is coming with daily challenges, daily acceptance and ownership of my happiness. Your Habit Chef Project is so important to me.  It reminds me that I have to strive to be my best and by building good habits around my passions I am ensuring consistency and momentum to reach my desired goals.
—–
As a native of Nairobi, Kenya, Liza ventured to the United States on a golf scholarship representing Texas A&M University-Corpus Christi's women's golf team. She previously won the Kenya National Championship title and represented Kenya at regional and international championships. With experience building and advising organizations, she is an entrepreneur, avid golfer, a celebrated change agent, wife, mother of 2 beautiful boys and passionate children's technology education advocate. She founded the internationally recognized organizations Texas Techies and PowerUp to deliver Science, Technology, Engineering, and Mathematics (STEM) education to at-risk students via innovations such as mobile computer labs. As a business performance advisor Liza specializes in speaking, writing and advising business owners, focusing on helping them build businesses with lasting success.
To connect with Liza, visit her website or join her on Twitter.