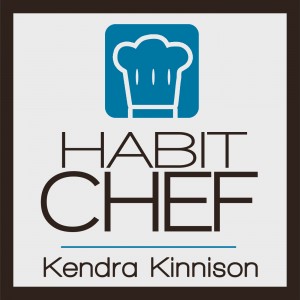 In this episode of The Habit Chef Podcast, we'll explore the four steps to measuring your progress so you'll know when to celebrate or shift gears. If you've ever wondered when it's time to pat yourself on the back or switch to Plan B, this show is for you. And if you listen to the end of the episode, I have a special challenge to help you finish 2013 strong and tackle a big goal.

Click here to play the podcast in a new window.
Listen in, and you'll learn:
How to gauge how well you're doing
How to decide when to move on to the next goal
Why you likely need to commit longer
Why you'll accomplish more by focusing on the process, not the event or result
How to know when to celebrate
When to measure your progress
Notes from this Episode:
Step One – Commit longer.
100 days is usually about right, long enough for compounding effects and short enough to have 3 cycles within a year.
Requires us to be smarter about our goals and think sustainably.
Step Two – Focus on the process, not the event or result.
Consistency trumps bursts every time.
Step Three – Celebrate the streak.
Use a wall calendar or tool such as Lift to track your progress every day.
Focus on one X at a time, and don't break the chain.
Step Four – Compare measurements.
At pre-determined milestones, review the numbers to evaluate your progress.
Use the feedback to tweak your strategy.
Announcements
Join us for #habitchat on Twitter every Wednesday at Noon CST. (That's 1pm EST, and 10am PST.) Curious how it works? I explain it all here.
And be sure to Join the Tribe for all the latest updates and resources.
Subscription Options

If you enjoyed this podcast, please subscribe on your favorite platform so you'll never miss an episode.
Click here to subscribe in iTunes.
You can also add us a Favorite on Stitcher.
Your Feedback
Do you have a suggestion or an idea for a show? Please email me at kk [at] habitchef [dot] com. I'd love to hear from you!
Want an easy way to share this with your friends? Click here to tweet your support.
Also, if you're enjoying the show, please consider rating it in iTunes and leaving a short written review. Those are incredibly important for helping others discover it when they search.