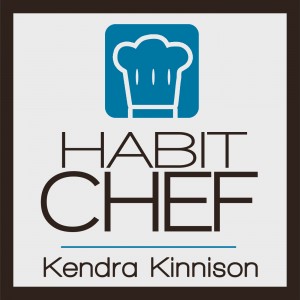 In this episode of The Habit Chef Podcast, I'll share the six actionable habits I learned from Nancy Duarte, Darren Rowse, Andrew Warner, Chase Jarvis, Jia Jiang, and others.

Click here to play the podcast in a new window.
I just returned from the World Domination Summit in Portland, Oregon. It's an amazing gathering of people from around the world that are focused on living remarkable lives of community, adventure, and service. My husband and I have attended all three years that the conference has existed, and we've already reserved our tickets for next year.
But what I've learned from the last two WDS's is that inspiration fades if you don't integrate it into your daily life – at least it does for me. So to try to maximize the impact of the conference on my life, I decided to distill my notes into key habits that were actionable. On my long flight back yesterday, I organized 15 pages of notes and discovered that there were six key ideas.
Today, I want to share them with you.
Set aside time each day to create.
Embrace some type of creative craft.
Just ask.
Get to know yourself.
Question your counter mind and strengthen your True Mind.
Make the investment to package your idea well.
Speakers

Darren Rowse: problogger.net | @problogger
Chase Jarvis: chasejarvis.com | @chasejarvis
Jia Jiang: entresting.com | @jiajiang
Tess Vigeland: tessvigeland.com | @tessvigeland
Gretchin Rubin: happiness-project.com | @gretchenrubin
Donald Miller: storylineblog.com | @donaldmiller
Andrew Warner: mixergy.com | @andrewwarner
Nancy Duarte: duarte.com | @nancyduarte
Steve Schalchin: bonusround.com | @steveschalchin
Bob Moore: bobsredmill.com | @bobs_red_mill
Background Links
Announcements
Join us for #habitchat on Twitter every Wednesday at Noon CST. (That's 1pm EST, and 10am PST.) Curious how it works? I explain it all here.
And be sure to Join the Tribe for all the latest updates and resources.
Subscription Options

If you enjoyed this podcast, please subscribe on your favorite platform so you'll never miss an episode.
Click here to subscribe in iTunes.
You can also add us a Favorite on Stitcher.
Your Feedback
Do you have a suggestion or an idea for a show? Please email me at kk [at] habitchef [dot] com. I'd love to hear from you!
Want an easy way to share this with your friends? Click here to tweet your support.
Also, if you're enjoying the show, please consider rating it in iTunes and leaving a short written review. Those are incredibly important for helping others discover it when they search.