At the end of January 2011, I started using a standing desk. Since then, my work projects have changed dramatically, and that desk has seen many offices.
Today, it's at Port Royal Ocean Resort, where I'm the Director of Finance and share an office with the Director of HR and her assistant.
What I'm most proud of is that they both now have one too.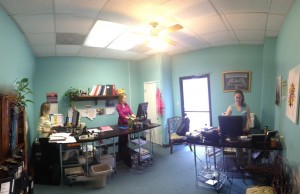 I believe that health habits are contagious, and that we can make each other stronger by making good choices together. I really enjoy working around folks that value their health as much as I do. It certainly helps keep me on track.
As far as the standing desk goes, I can't imagine working any other way. It feels completely natural to me. Nora and Lauren adapted very quickly too, saying that they had very little soreness in the first few days.
If you'd like one too, here's the info on our setup. The design is very simple. The base consists of two Omar shelving units, and the top is a Vika Amon table top. The total cost is less than $125 from Ikea. A standing mat is also important, particularly if you're standing on a concrete floor. For shoes, we're partial to the New Balance or Merrell brands with Vibram soles.
By next year, I hope we're up to 7. If you're thinking about trying it out, let me know. I'd love to answer any questions and point you to other setups I've seen posted on the web.