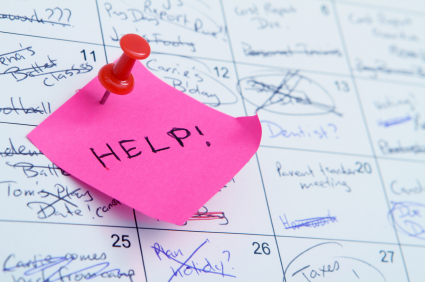 During the last half of 2012, I struggled to do many of the things that were important to me. Maybe you've experienced that too.
Perhaps it's an unwritten book gnawing at you. Or a household to-do calls out every time you pass by. Or maybe it's the self-disappointment that sinks in after you've eaten a meal you know you'll regret.
And the bigger the resistance, the more we know we need to do it. But willpower alone simply isn't enough.
I've sure tried that. And I bet you have too.
It doesn't work. The solution calls for something more, and I spent the entire month of December searching for it. I read (or re-read) nearly a dozen books. I took online courses. I watched the best interviews. I interviewed my mentors. But I still couldn't figure out what was wrong.
To quell my frustration, I decided to turn that effort into a personalized year-end planning dashboard for my core group. If I hadn't found my answer in all that research, perhaps I had found plenty that would be useful to them. I spent Christmas week putting it together, wanting to release it the Friday before New Year's.
Waiting on our delayed plane in the Jackson-Evers airport that Thursday, I found it.
"There are two types of schedule, which I'll call the manager's schedule and the maker's schedule. The manager's schedule is for bosses. It's embodied in the traditional appointment book, with each day cut into one hour intervals. . . . But there's another way of using time that's common among people who make things, like programmers and writers. They generally prefer to use time in units of half a day at least. You can't write or program well in units of an hour. That's barely enough time to get started."
I had bookmarked Paul Graham's infamous Maker's Schedule, Manager's Schedule essay to share with the group. In reading it again, the words jumped off the page.
"I find one meeting can sometimes affect a whole day. A meeting commonly blows at least half a day, by breaking up a morning or afternoon. But in addition there's sometimes a cascading effect. If I know the afternoon is going to be broken up, I'm slightly less likely to start something ambitious in the morning. I know this may sound oversensitive, but if you're a maker, think of your own case. Don't your spirits rise at the thought of having an entire day free to work, with no appointments at all? Well, that means your spirits are correspondingly depressed when you don't. And ambitious projects are by definition close to the limits of your capacity. A small decrease in morale is enough to kill them off."
Throughout the year, my role at Port Royal had grown. In addition to accounting responsibilities, I had taken on leadership of our RevMax (revenue management and marketing) and IT teams. Our people are fantastic. I loved the steep learning curve and the challenge of navigating our particular constraints in a creative way. But all of those roles required lots of meetings and project management functions, firmly planting me in the Manager's schedule.
I looked back at the list of projects I'd been unable to complete. The answer was simple. They needed a Maker's schedule.
I knew I needed a schedule change. But the two were seemingly at odds?
Then I remembered junior high. Basketball practice was at 6am so that we'd have two uninterrupted hours before school started. I remember feeling like we snuck in an extra day before anyone else woke up. Maybe I could use the same trick again.
On a whiteboard above my desk, I wrote out my new schedule.
5:00 – 5:15    Freshen Up / Protein Shake
5:15 – 5:45    Prayer & Bible Study (current book)
5:45 – 7:30    Writing
7:30 – 8:00   Get Ready
8:00 – 8:15   Breakfast
8:15 – 9:00   Take my daughter to school / Drive to work listening to podcasts
9:00 – 9:30   Daily Stand-Up Meeting at Port Royal
9:30 – 11:00  Work on Priority Project
11:00 – Noon Respond to emails and messages
Noon – 5:00  Meetings & Project Management Follow-up
5:30 – 6:00   Workout
6:30              Family Dinner
This was a HUGE shift for me, with lots of inherent changes.
Previously, I worked out in the morning – and I really enjoyed it. But it took my entire morning. Because of the location, I'd leave the house at 5:30 and get back about 7:00am.
Then I'd hustle to get out the door by 7:30am so I'd have time to check email before our Stand Up meeting.
I would try to block off chunks of time for major projects, but rarely turned off email/social media and closed my door. Now, I'm in a virtual cave until at least 11am.
Essentially, I put myself in Maker mode for the first half of the day and Manager mode for the rest.
The sequencing is important.
1. It limits the distractions.
The benefits of staying off social media and email are obvious. Delaying the project management function is equally as helpful. Minding those important details seems to expand as time allows. Limit it to the afternoon, and it still gets done. My teams seem to enjoy having their mornings uninterrupted as well.
2. I do the most important thing first.
Known as "eating the frog," this wisdom principle was outlined a decade ago by Brain Tracy. Countless CEO's abide my it, and Buffer founder Joel Gascoigne credits that shift with getting his company off the ground. "It was the choice to work an hour first thing in the morning each day when I was freshest that made a huge difference," he says.
3. Working out before coming home makes me a much better parent and wife.
This one was a bonus discovery. I wondered how I'd feel after working out at the end of the day. The answer: amazing. Whatever stress I came in with stayed at the gym. By the time I got home, I was ready to engage with my family completely. Work was off my mind.
If you're struggling with achieving your goals, consider a schedule change. It might change your life.