When I first gave up bread and dairy in December, I really looked forward to "cheat day" on Saturday. At precisely 11:00am, I'd go online to Dominos.com and order my thin crust Memphis BBQ Chicken Pizza. It was my heaven on a plate.
And then I kept reading and decided to do away with my "off" days. Once I understood the "why" behind the science, it wasn't hard at all.
Except for pizza.
I really, really missed my pizza.
And then I found recipe magic. Here's how you can make magic too.
Crust Ingredients: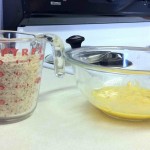 – Almond Meal, 2 cups
– 2 eggs, preferably DHA enhanced
– Olive Oil, 2 tablespoons
– Baking Soda, 1/4 teaspoon
– Garlic Powder, 1 teaspoon
– Fresh Rosemary to taste (about 1 1/2 tablespoons)
Let's get started.
– Preheat your oven to 350 degrees.
– Mix the olive oil, eggs, baking soda, garlic powder, and rosemary in a mixing bowl.
– Slowly mix in the almond meal, until it forms a cohesive ball.
– Grease your baking sheet with about a tablespoon of olive oil.
– Put the "dough" ball in the middle of your baking sheet.
It should look like this:
Now the fun begins.
– Slowly press the dough into a thin circle or oval with your fingers.
You'll want to get it as thin as possible. Mine are usually about 13-15″ in diameter.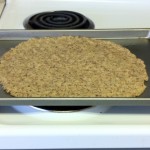 – Bake just your crust for about 20 minutes.
Now for the toppings.
Here's an example of one of my favorite combinations. (You can try anything you'd like.)
While your pizza's cooking, you can prepare the toppings.
I found this shredded chicken at HEB, and I love it. The ingredients list is short: chicken, and it has relatively low sodium for the seasoning.
And then I throw on whatever veggies I have available. This one featured purple onion, mushroom, summer squash, red pepper, and scallions.
Be sure to pile 'em high. Make it a couple inches thick.
Then, bake it for another 20-30 minutes, to your preference. (My test is always the onions.)
Voila!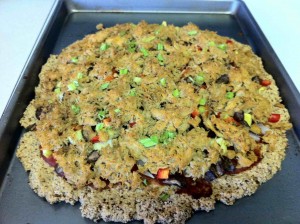 It's delicious! Give it a try, and let me know what you think. (And I'd love to hear your toppings ideas!)