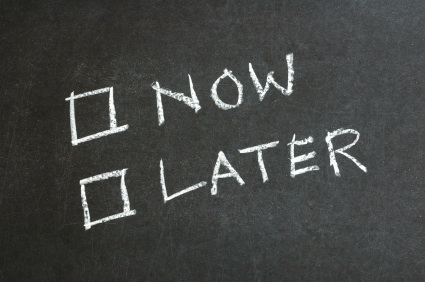 After intense Twitter and Facebook debate last week on procrastination, Holly Hoffman suggested I host a blog roundtable to flesh out different perspectives on the subject.
In those debates, we saw several camps emerge:
– The "I work better under pressure" group,
– The "I want to stop, but I can't figure out how" group, and
– The "I figured it out, and here's how" group.
So here's your chance to let us know where you stand. Do you fit into one of these groups? Or do you have an entirely different point of view?
How To Participate
1. Write a post on the topic on your blog.
2. Before Wednesday, January 19 at 7:00pm CST, post a comment below that includes the link to your post.
How It Works
On Friday, January 21, I'll post a round-up of everyone who participated with links to your blog posts on the subject. There are no winners or prizes, and all of the submitted posts will be included in no particular order.
Why Participate?
1. It has a deadline, giving you an opportunity to practice your procrastination skills. (Or make good on that New Year's resolution not to.)
2. By interlinking the posts, everyone will benefit from increased traffic. We'll also expose each of our audiences to other interesting blogs.
3. It's fun to debate and share diverse perspectives and approaches.
Now or Later
All right. That's all there is to it.
I'll share my battles experiences with the big P in a post next Monday, but I'm really looking forward to hearing what you think.
And don't forget to post your link in the comments!