Move over oatmeal and Wheaties. A new breakfast champion has been crowned.
Need caffeine to get going? Can't wait for lunch? Or struggle to get through the 2:00pm crash?
If so, I dare you to try this pancake recipe for a week and see if you don't feel tons better throughout the day. Yep. Pancakes.
You in? Then, let's get started.
First, gather your ingredients.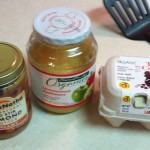 1/2 cup unsweetened applesauce
1/2 cup creamy almond butter (no-stir is easier)
2 eggs, preferably DHA enhanced
coconut oil
Let the cooking begin.
– Set your skillet to medium-heat, and let it warm up.
– Mix the eggs, almond butter, and applesauce until they form a consistent batter.
It should look like this: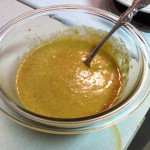 You can also add a touch of cinnamon and/or vanilla extract if you'd like.
Start the pancakes.
– Put a small amount of coconut oil in your skillet. About half a teaspoon is usually perfect. Let it melt, and swirl it around the pan.
– Scoop a heaping tablespoon of batter into the pan.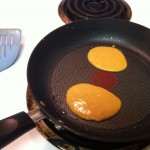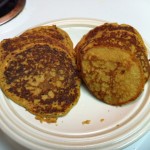 Let them cook about 1-2 minutes on each side, flipping when you see bubbles appear.
I usually make about 8 per batch, 2 at a time in the skillet. That's enough for two full servings.
For my breakfast, I eat 4 of the pancakes with a slice of Boar's Head Honey Maple Turkey (1.5 oz.), along with my vitamins: fish oil, D3, and digestive enzymes.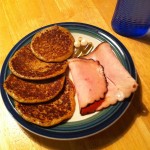 Here's how the nutritional information breaks down:
Calories: 557.5
Fat: 42.4 g (8 g saturated)
Carbs: 24.2 g
Protein: 28.5 g
Fiber: 7.2g
It's not what the government's food pyramid recommends, I know.
Do the research. (You can start here.) Or just try it, and let the results speak for themselves. I promise you'll feel like a champion.