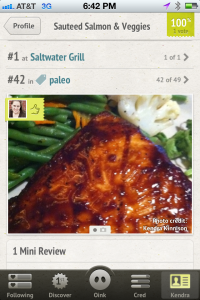 If you like discovering new things (or knowing about really good things), check out this new app – Oink.
I think it's kinda like Foursquare and Yelp (with a little Twitter) rolled into one clever interface. Plus, it displays pictures beautifully, much like Instagram. For me, it pulls together my favorite features of each of those mobile apps.
I really enjoy that you can recommend items within a place. If there are enough users, you'd even have an interactive menu with the top picks and ratings from your friends. And the "levels" seem to be an improvement on Foursquare's badges since they're more meaningful.
Selfishly, I'd love to be able to use it to find delicious Paleo dishes wherever I am. (So get tagging!)
Here's an intro video from founder Kevin Rose.
It's currently available only for the iPhone with Android compatibility in the works.
Your thoughts? Interesting? Or just another social app that will fall by the wayside?