So what do tattoos have to do with faith?
Adam Copeland is trying to find out. He's a youth pastor conducting research about tattoos and culture, so he posted a series of questions on his blog.
I decided to participate, and here are my responses.
1. Describe your tattoo: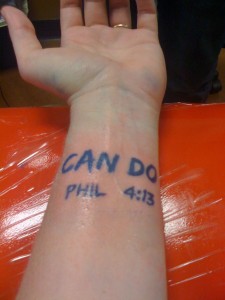 2. What made you want that tattoo?
I've wanted it for several years, and finally got it in July. More than anything, it helps me focus.
3. How did your faith influence your tattoo, indirectly or directly?
Directly, obviously. I struggle with negative thoughts, and it's a great reminder to hand my worries over to God.
4. What's the relationship between your tattoo and your broader understanding of your body?
I guess I haven't really thought about it in that context. It is simply the best permanent reminder I could ever have.
5. Was it worth it…do you have regrets?
Absolutely. I love it. I'm a runner, and I often recite Isaiah 40:31 when it gets tough. I really want something to symbolize that on my right wrist, but I'm going to wait a while.
Getting it was part of my larger goal to live without fear.
6. What funny story has happened because of your tattoo?
Honestly, most people don't even notice – even though I wear short sleeves most of the time. I really haven't experienced any negative reactions at all. A few people have asked what it means, and I enjoy sharing why that verse is powerful to me.
7. How did your tattoo change your faith (and if not, why not)?
It has strengthened my faith and served as a great reminder to keep my focus on God. A few days after I got it, I was reading and came across Isaiah 44:5:
One will say, "I belong to the Lord;" another will call himself by the name Jacob; still another will write on his hand, "The Lord's," and will take the name Israel.
And the parallel in 49:16 as God spoke of permanent remembrance:
See, I have engraved you on the palms of my hands . . .
Reading the study notes for those verses was fascinating to me and affirmed how I felt about my tattoo.