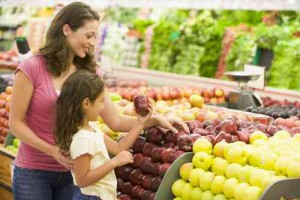 I'll get right to the point.
For one reader, I'll buy your groceries for the month of October – up to $800.
There's no catches, fine print, or series of hoops to jump through. For four weeks, I'll reimburse your grocery receipts up to $200. I'll also provide personalized family meal plans and weekly coaching.
**UPDATE**
I've heard from so many people that are just as interested in the meal plans and coaching, so I'm going to add that too.
For anyone that has committed to eating healthier and taken the survey by midnight CST on September 17, I'll also provide you with the specific steps for getting started and meal plans throughout the month of October (at no cost).
Let's make this the October to remember because we got healthier together.
**END UPDATE**
Here's the deal:
Too many of us are sick and unhealthy, and it breaks my heart.
Just over three years ago, I was there too. My clothes were always too small. I had headaches every afternoon. My digestive system was a mess. Nearly every day, I took some sort of pill to feel better. I never had enough energy to do the things I wanted.
Today, I know it doesn't have to be that way – for me or for you.
I hear from so many people struggling to eat healthier, and I want to show you how easy it can be if you'll do a few things differently right at the beginning. I know where the pitfalls are (because I spent years falling in them myself), and I want to make sure you avoid them.
The best way I can think of to do that is to make it risk-free. You don't have to spend a dime, and I'll help you each step of the way.
I'll pick a winner on October 1, and you'll have a check before the 5th.
All you have to do is answer 6 quick questions about why you want to eat healthier before midnight CST on September 29, 2012.
Here's the link to sign up (free):
https://kendrakinnison.com/grocerysurvey/