Going through a planning process?
Try a new framework. For this process, my favorite comes from Ray Dalio's Principles.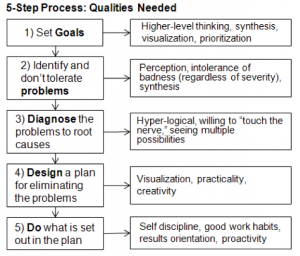 We'll walk through the action steps for each milestone, along with supportive resources and information.
Step 1: Set goals and identify priorities.
You can have virtually anything you want, but you can't have everything you want. You will likely have to reject some 'good' to focus on the great, but how do we determine what that is?
First, consider some questions of yourself:
– what went well this year?
– what did not go well?
– what are your gifts?
– how would you describe your art?
I also think this "Killer App" exercise from Jonathan Fields can be very insightful.
First, make a list of trusted people from all aspects of your life – work projects, church, volunteer activities, family, friends, etc. Aim for 25-50 individuals.
Then, ask them two questions.
From the outside looking in, what do you perceive as my killer app? What do you come to me for or where do you see me offering substantial value to others?
What makes me different from others offering similar value, products, experiences or services?
Usually, between your own reflections and the feedback from others, you'll start to see areas of alignment – where your gifts and passions overlap with what's valuable to others.
Now, let's start to capture these ideas in written plans.
Start your "Stop Doing List." Introduced by Jim Collins almost a decade ago, this exercise represents the courage and discipline to remove activities that aren't in alignment. It's a recognition that there's often incredible power in subtracting, not just adding.
Organize your Annual Plan. If you'd like a template, here's my favorite Excel spreadsheet from Chris Guillebeau. It's already formatted for those of us with multiple roles and responsibilities, and it lends itself to tracking and review. More on that later.
Steps 2-3: Clear the path.
Where could you get off track? What could go wrong?
At this step, your focus is on planning to fail. You'll want to identify all of the obstacles and challenges that could prevent you from achieving your goals. Then, you'll brainstorm ways to recognize when you've slipped and have a plan to start again.
I call this bumper bowling for your life. When you get to the bowling alley, you can bowl "normally" or you can acknowledge your weaknesses and bowl with guardrails. It's likely to bruise your ego a bit, but I'll bet your scorecard will improve. While you may not hit a strike every time, you'll certainly be racking up points with every attempt. I've learned that we can choose to live life that way too. And it's pretty much the same trade: eat some humble pie and get significantly better results.
But there's one really big key: we have to decide ahead of time. Once the ball is in the gutter, the guardrails won't do us much good.
What "bumpers" can you install in your life? Here's an example of how I'm using this strategy to continue writing.
Step 4: Design your system.
Often, we think we want to eliminate structure and routine from our lives. We think that's where we'll find freedom. Now, from research, we know that's not true. (Some of us still had to learn that lesson the hard way.)
To make our art, we must have structure and discipline. Freedom is the ability to design our own system, and we likely already have that. We just have to use it.
Here are some components for you to consider:
And four applications I'd highly recommend for working smarter:
5. Develop your habits.

Once you've identified your goals and your system, it's time to craft your habits. For now, forget about the result you're seeking and focus on the habit itself.
Here's an excerpt from Secret Recipe with a refresher on exactly how to build your habits intentionally. (Click here to download an 8 page guide.)
To change an existing habit, find your cue, test the possible rewards, and change your routine. This process works with your personal "autopilot," meaning that change is likely to come quickly and easily.
Developing new habits is a two-step process. First, identify the "lite" version of the habit you selected. Then, find a behavior that you already do consistently and use it as the trigger. As a shortcut, consider linking it to a weakness you already address daily.
And here's a nifty tool – Lift, a new app,  is a simple way to achieve any goal, track your progress, and get the support of your friends.
To Read:
Daring Greatly: How the Courage to Be Vulnerable Transforms the Way We Live, Love, Parent, and Lead
Uncertainty: Turning Fear and Doubt into Fuel for Brilliance
Turning Pro: Tap Your Inner Power and Create Your Life's Work
The Icarus Deception: How High Will You Fly?
The Thank You Economy
To Learn:
1. Copywriting
Whether you're selling yourself in a resume cover letter, a project in a proposal, or an idea in a business plan, you must learn to write persuasively. As Sean says, "it doesn't matter what you're doing, you're always selling something. Whether it's an idea, a product, yourself, . . . there is never a time when you aren't selling."
You can use it to increase your income, to gather donations for an organization you support, or rally others around a cause, but you must first cut through the noise. Without copywriting skills, you simply can't compete. To get started, check out the resources available on AppSumo or on CopyHour.
2. Basic Social Media
I realize this is often a generational divide, but it doesn't need to be. The way you interact online is quite similar to the way you interact at "networking" events such as Chamber of Commerce meetings. I've often found that my more seasoned friends grasp the basics of social media faster than younger ones because they already know how to build relationships.
Here's a great 10 minute Gary Vaynerkchuk interview on CNN that explains the basics and how it translates to what you already do. (If you wan't to learn more, grab a copy of his latest book The Thank You Economy.)
Next, be sure you're on Facebook, Twitter, and LinkedIn. Just get started, and keep exploring.
3. WordPress
Your first thought is probably, "What is WordPress?"
In short, it's a content management system that allows you to build websites without any knowledge of design or coding. It's turnkey and very inexpensive. The latest research indicates that over 25% of the internet runs on a WordPress platform, and that number is growing rapidly.
You can use it for your personal website, a blog, your business, or even as a way to share information within your business (like a helpdesk or training manual).
The best way to learn is to simply get started. I'd recommend this tutorial from Michael Hyatt. If you can't think of a work project, start one for yourself.
4. Basic HTML
Unless you aspire to be a "coder" or programmer, you don't have to spend a ton of time on this, but you should know the basics.
Think of it this way: If you were traveling to a foreign country, you'd at least learn how to say a few phrases. The same is true for the language of the internet. You need to learn a few key "phrases." And just like any other language, with a little practice, you'll have it down quickly.
There are lots of resources that can help you with this, and my favorite is Codecademy. It's completely free, interactive, and you can even learn with your friends. I started with Code Year, an introductory track that starts with the basics.
5. Basic Accounting
I could certainly be a little biased, but a little accounting goes a long way. If you can interpret a balance sheet and income statement, you're ahead of the game. Also, with a little understanding of internal controls, you can probably prevent or detect common frauds. Udemy is a great resource and has several options for learning functional accounting.
Simply knowing how to automatically track how much you receive and spend is critical. (If you don't have a system, how will you teach your kids?) Free services such as Mint or FreshBooks are excellent options.