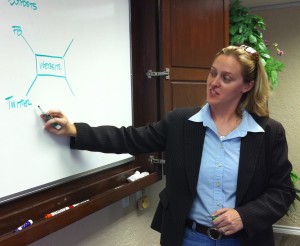 Kendra Kinnison frequently shares with businesses and organizations about the intersection of business and technology. Her speaking style is energetic, conversational, informative, and motivating. Sample topics are included below, and she customizes every presentation so that it's unique to each audience.
A gifted teacher, Kendra shares the big ideas – and how to put them to use. Your audience will be empowered with the knowledge to take action immediately. Her audiences have included numerous professional organizations, universities, Fortune 100 companies, entrepreneurs, students, and many other groups.
Click here to book Kendra for your next event.
Speaking Topics:
Live Your Peak
Do you have any idea what your true potential is? Have you ever wondered if you could run a marathon, run a company, lose weight and keep it off, accumulate real wealth, learn new skills, and live boldly?
Each one of us has peak potential, but very few of us accept the challenge to be the best version of ourselves possible. We live with decisions we made years ago (or accepted by default) without a second thought. We allow our culture to dictate what "normal" should be, not realizing how distorted that is. And we allow limiting beliefs to keep us from seeking our own version of success.
But it doesn't have to be that way. You can choose to live your peak.
Technology Bootstrapping
Interested in having all of the technology resources of a major corporation without the expense? It can be done, and Kendra can show you how. Using methods and tools tested and implemented across many of her companies, Kendra can demonstrate how freelancers, entrepreneurs, and non-profits can leverage new technologies to slash their spending.
Netiquette: The Do's and Dont's of Social Media
Developed with Neovia Solutions co-founder Holly Hoffman, this highly-rated presentation is perfect for associations and groups of small business owners. Constantly updated and distilled from hundreds of client projects, Kendra shares the fundamental knowledge essential for social media success. It includes key tactics and techniques for utilizing a variety of platforms such as Facebook, Twitter, YouTube, WordPress, LinkedIn, Comments, and RSS subscriptions.
Unconventional Business Design
Through her background as a CPA and consultant, Kendra has seen the insides of dozens of businesses. From those that receive a fortune in revenues, but generate very little for their owners to business with relatively modest top-lines revenues that are much more profitable, she's lived it all. There are owners that are able to enjoy their lives and owners that view their businesses as a ball and chain. Over time, Kendra developed her own philosophy for the types of businesses that greatly increase your chances of success. After testing and refining her theories in her own endeavors, she's developed a framework and presentation that's perfect for business owners, new entrepreneurs, and students.
I'm In College. Now What?
Developed in response to frequent speaking requests, Kendra shares her unconventional tactics for making the most of your college (or high school) years. By implementing her strategies, numerous students have doubled their post-graduate incomes, built their own businesses, and retained the freedom to pursue their passions. Through real-world experiences and opportunities, Kendra shows students how to shatter the status quo template lifestyle and get focused on real success.
Technology Tools for Virtual Teams
With new advances in technology, we can more easily stay connected with family, friends and co-workers; collaborate on projects; develop a larger professional network; and enjoy the latest in social media. This presentation focuses on the administrative tools available to virtual teams – as opposed to more marketing-based ones. These tools offer an efficient and productive way to support teamwork where people are not located in the same physical place at the same time. They can also be used to save money because more-expensive traditional office expenses are no longer needed.
Click here to book Kendra for your next event.
What Others Have to Say:
Texas Self Storage Association
My organization, the Texas Self Storage Association, hired Kendra to speak at our 2010 annual convention in Fort Worth, Texas. A trusted coworker knew Kendra through a businesswomen's organization to which they both belong, and she highly recommended her. For starters, Kendra was extremely easy to work with, and almost shockingly quick (in a good way) to respond to my emails. She obviously practices what she preaches with regard to being "wired"!
Kendra gave a one-hour talk titled "The Do's and Don't's of Social Media." She received a 100% "Excellent" rating on all three categories of the evaluation handed out to attendees: Speaker's knowledge, speaker's presentation style and usefulness of information. The written comments she received were also outstanding…every single one. It's obvious that she spoke on a level that novices could grasp, without "dumbing it down." "Best seminar I went to" is probably the comment that said it all.
– Emily S. Mathews, CMP
Hacemos of AT&T

HACEMOS is the Employee Resource Group within AT&T for our Hispanic employees. We have a unique program for our members, called Leadership HACEMOS. With the popular trend toward social media networks, we brought in Kendra to provide an overview of the different types and their purpose.
Participants' comments on the session evaluation were "Exceeded Expectations" from every member. She not only provided an excellent explanation of the requested information, but added additional tidbits of social etiquette insight. We will definitely make this a "must have" for any subsequent program.
– Pat Jasso, VP-Operations, HACEMOS – San Antonio Chapter