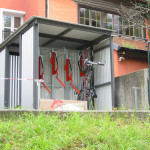 The term was coined as a metaphor to illuminate Parkinson's Law of Triviality. Parkinson observed that a committee whose job is to approve plans for a nuclear power plant may spend the majority of its time on relatively unimportant but easy-to-grasp issues, such as what materials to use for the staff bikeshed, while neglecting the design of the power plant itself, which is far more important but also far more difficult to criticize constructively.
This trap snares lots of folks, and leaders are particularly susceptible. We're asked to make a multitude of decisions every day, usually without enough facts and often with no good answer. It can be exhausting.
Given the chance to think about adjusting our revenue management strategy or the color of the lobby chairs, my mind leaps at the chance to take it easy.
But I shouldn't indulge. And you probably shouldn't either.