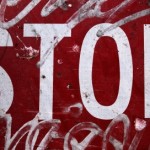 "Does everyone have a To Do list?," asked Jim Collins at the Inc. 500 conference in September 2008. We all raised our hands.
"How many people in this room have a Stop Doing list?" Not so many.
Asked what he was planning to stop doing next, he replied, "unnecessary fire drills." To him, that meant replying to emails without thinking them through and causing havoc and false urgency within his team.
That made sense to me, and I scribbled a note. I also began to research more about his background and found this article about pulling the plug.
"The power of removal can be immense. A few years ago I set a goal of reading about 100 books a year. So I embarked on a vigorous program of doing. I made lists. I set aside a room as a library. I bought reading chairs, desks, lamps, and stacks of books."
"Yet in spite of all that energetic doing, too many of the books remained unread. After a tiring day I'd get sidetracked. In my left hand, War and Peace; in my right, the TV clicker. Faced with long passages on the burning of Moscow in 1812 or short quips on Monday Night Football, I'd flick on the TV and lose a couple of hours. So my wife and I unplugged and jettisoned the TV. My reading productivity soared."
Since then, he's written four ground-breaking bestsellers and become the authority on business leadership. His wife? She's won an Ironman Triathlon.