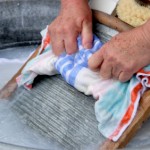 Is your kitchen and laundry room stocked with all the latest conveniences? Or do you still do everything by hand?
I'm guessing not. But lots of us are still trying to work that way. There's only one problem. The world has changed, and your work has too.
You're expected to worker harder, faster, and smarter. You're expected to know more and find anything at a moment's notice. You're expected to communicate down the hall and around the world. It's tough to keep up.
But there is something you can do: Upgrade your appliances.
Let's start 2013 with three shiny new tools. We'll walk through them together.